Fresh Amstrad CPC, PCW, Notepad NC100 NC150 NC200 and PDA600 news
Color Lines update (v1.0.3), an Amstrad CPC reflexion game
-
Color Lines v1.03 by Tom et Jerry is out (bugs corrected) on Tom et Jerry (GPA).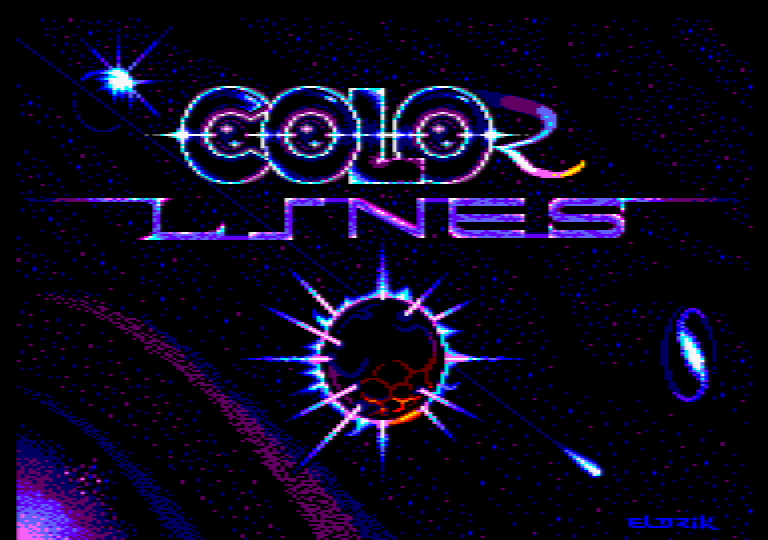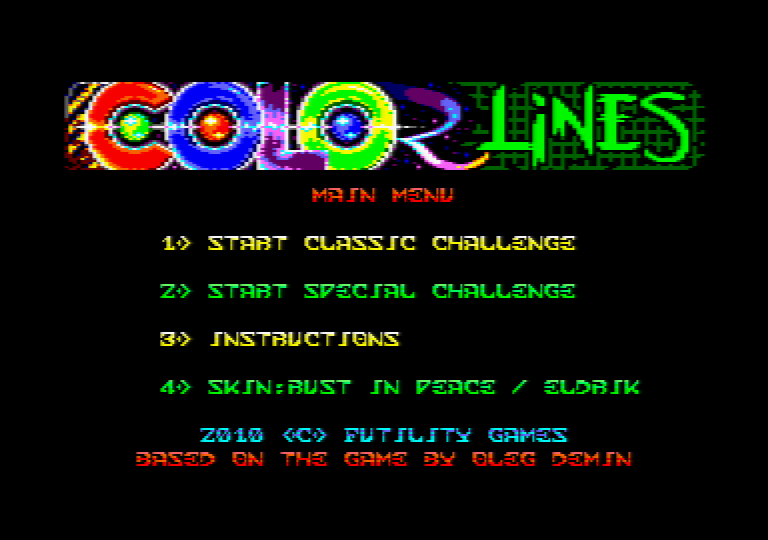 ManageDSK v0.18 for windows is out
-
ManageDSK v0.18 by Ludovic Deplanque is out. It features :
create an empty .DSK file,
add files in a .DSK file,
extract files from an .DSK file,
rename files in a .DSK file
delete files in a .DSK file,
With your SDCard HxC emulator, select a disk image directly on the CPC
-
First, you should download the latest firmware of the SDCard HxC floppy emulator, the v1.3.11.0 corrects some timing problems with Asic 3 (CPC+) and 4 (pre-CPC+), and some bugs. It's best to freshly format (FAT32) your SD card, then copy the *.upd and *.cfg to the card. Press Left and Right buttons before power up and keep it pressed at least 1 seconds at power up. Wait some seconds, it's done.
There is now an Amstrad CPC program to directly choose an image. This program (just run"hxc) is in the autoboot.hfe disk image. By pressing the middle button, the autoboot.hfe disk is automatically selected. It has been compiled with Small Device C Compiler and still need to be optimized (slow drawing using system calls). The program has been converted to a ROM by Krusty, but as the original program is changing fast at the moment, it could be a bit early to download it.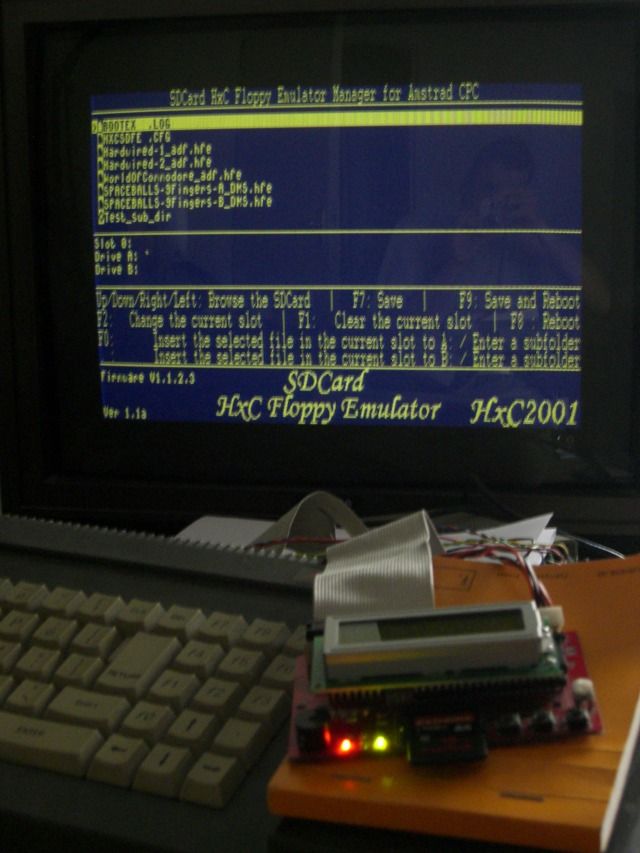 Mode 1 pictures by Jill Lawson
-
Thanks to Papy CPC (at the Amstrad Expo 2010 meeting) who knows this site better than me, this picture gallery file which was credited to an unknown artist has found its rightful author : Jill lawson. Below you will see her beautiful mode 1 pictures. Enjoy them (last 2 pictures comes from les sucres en morceaux).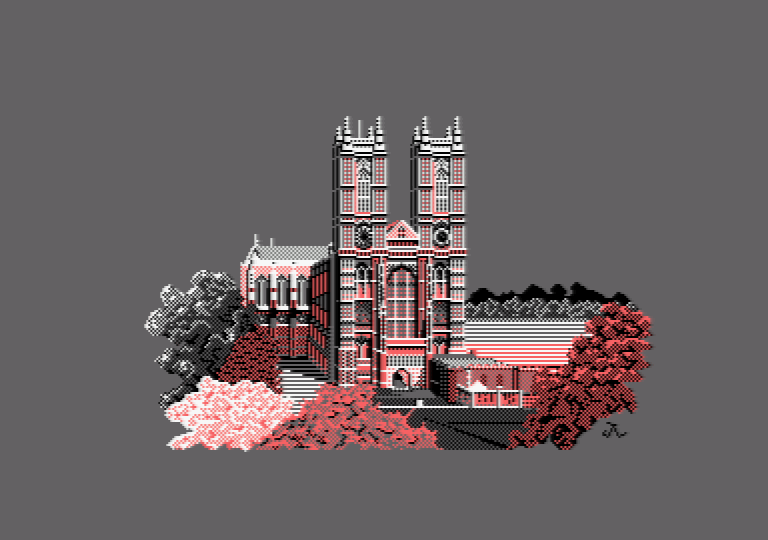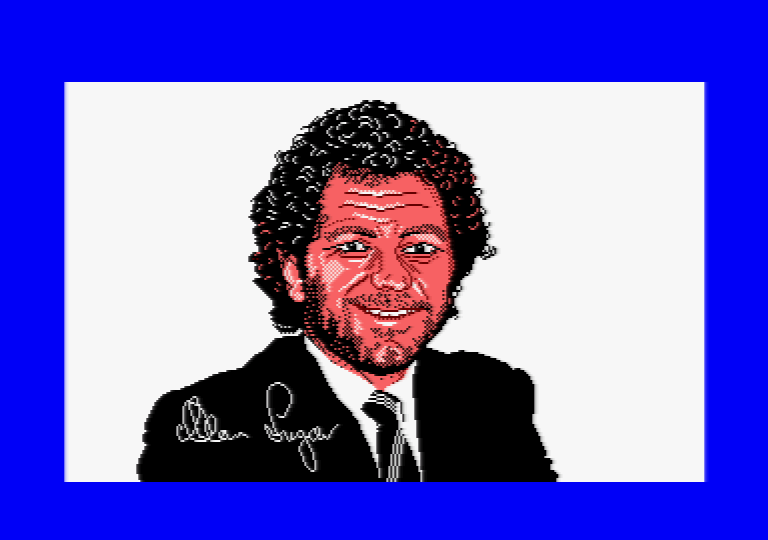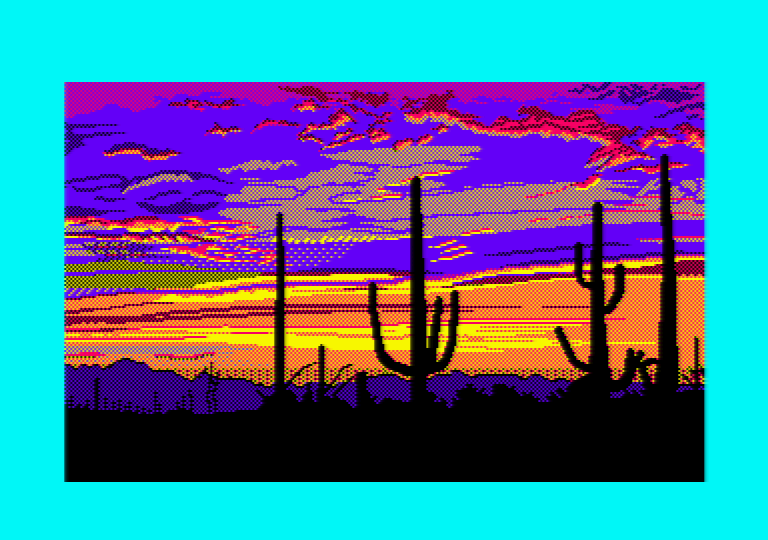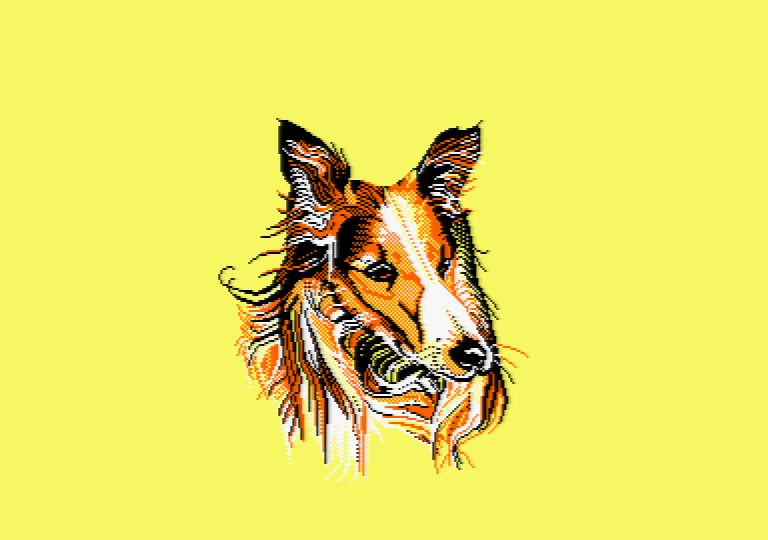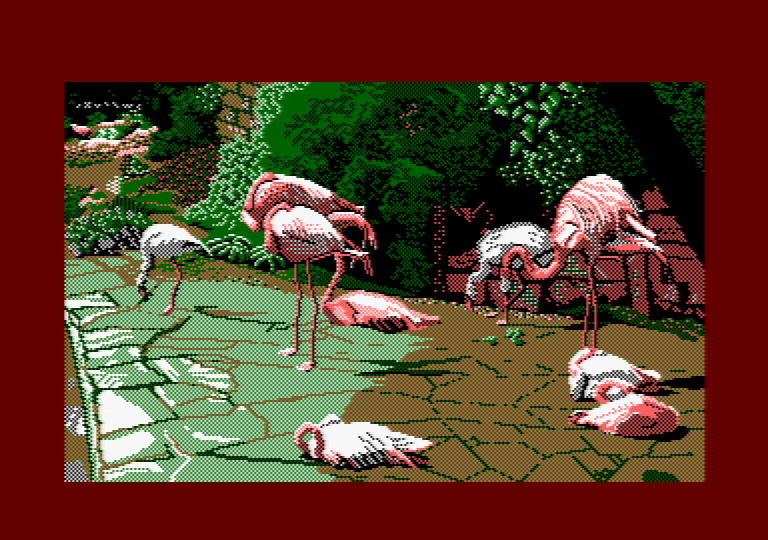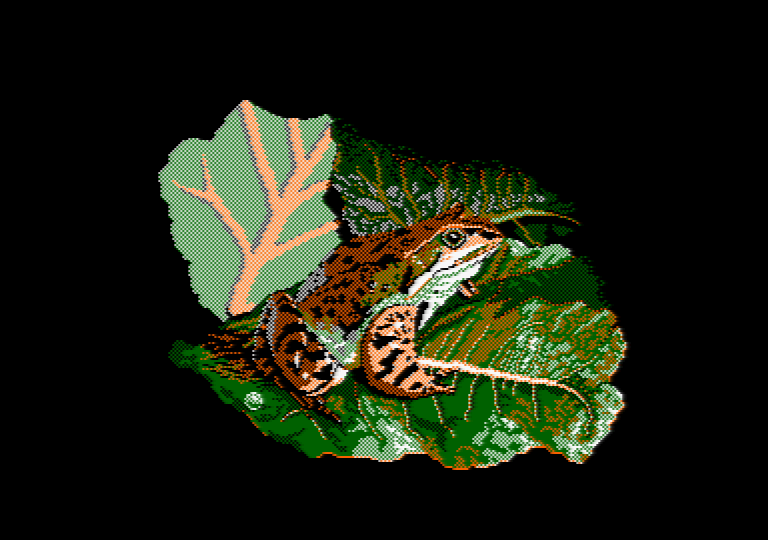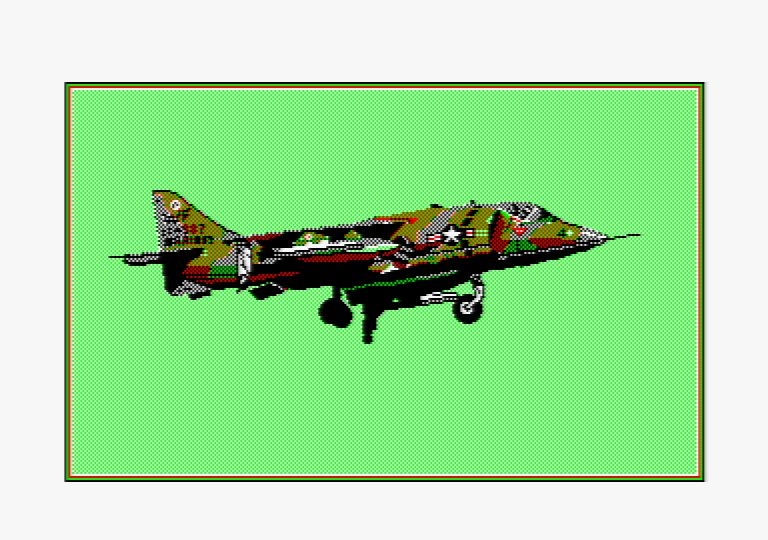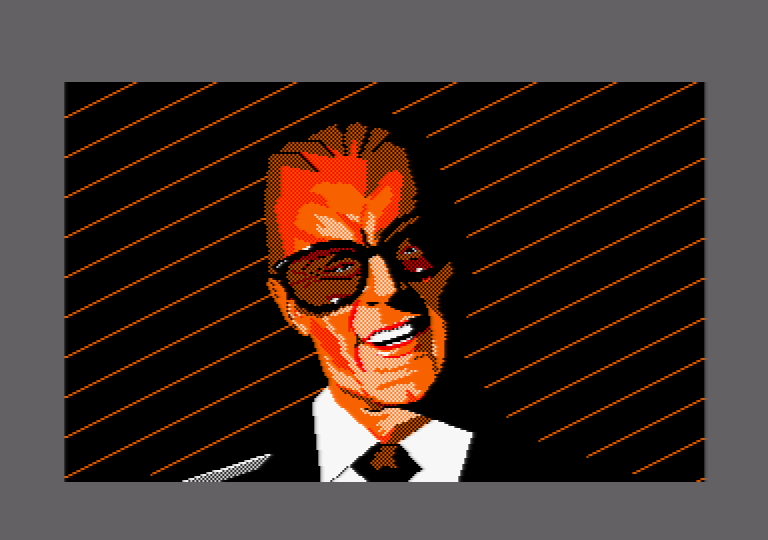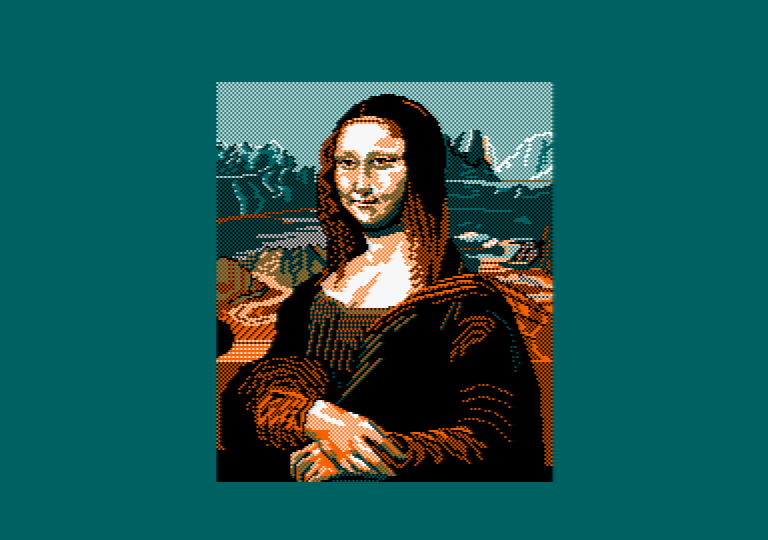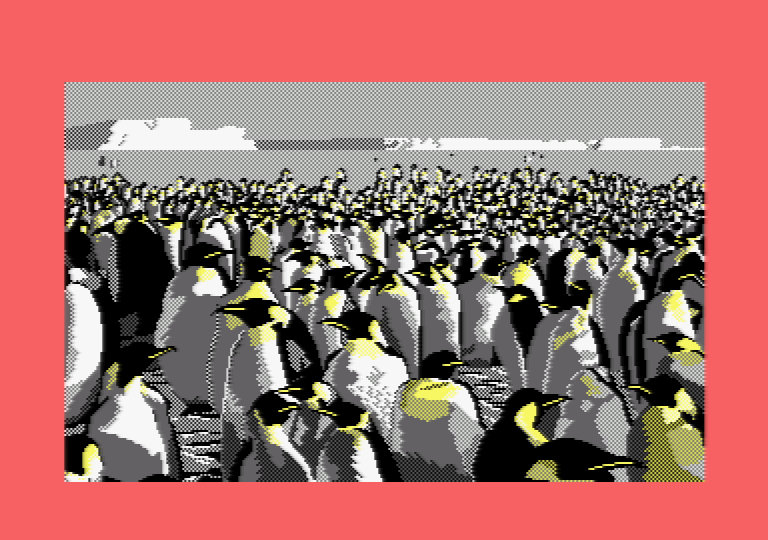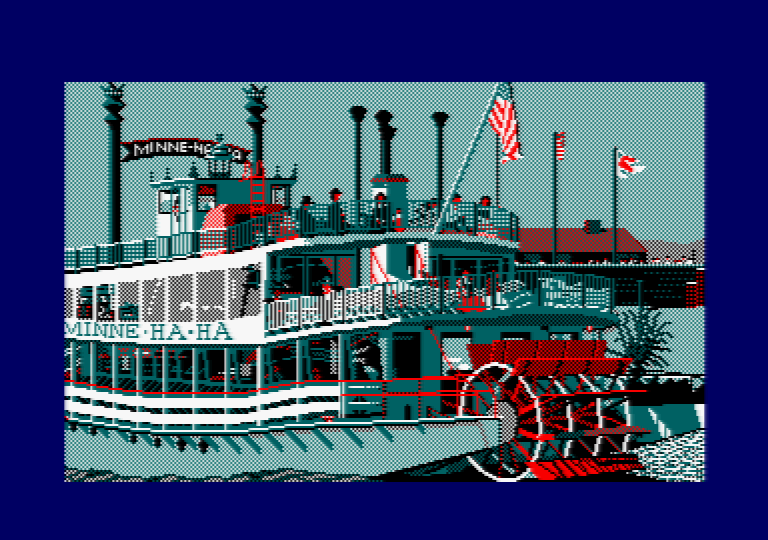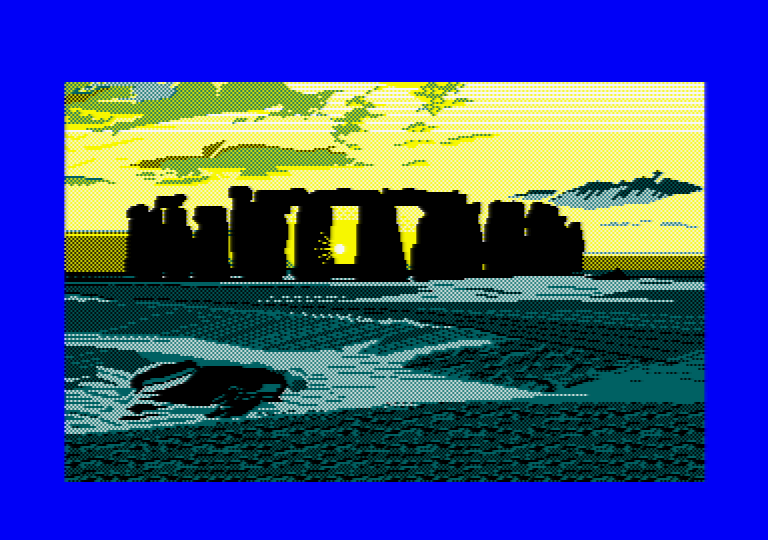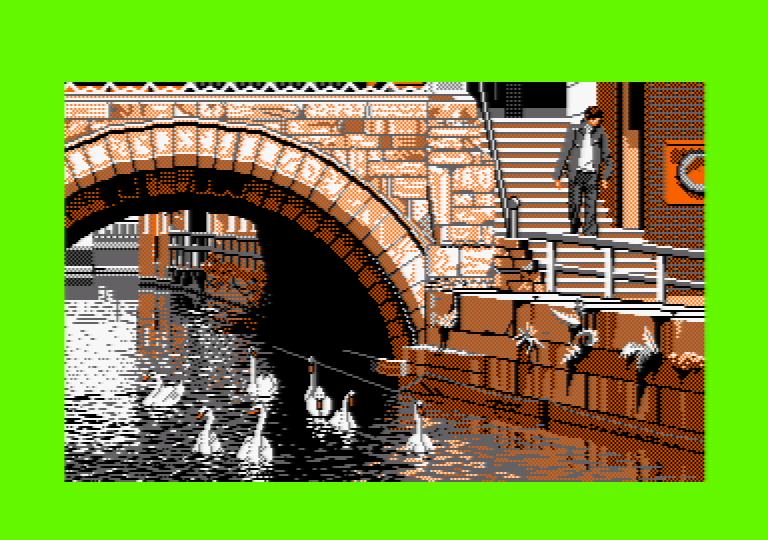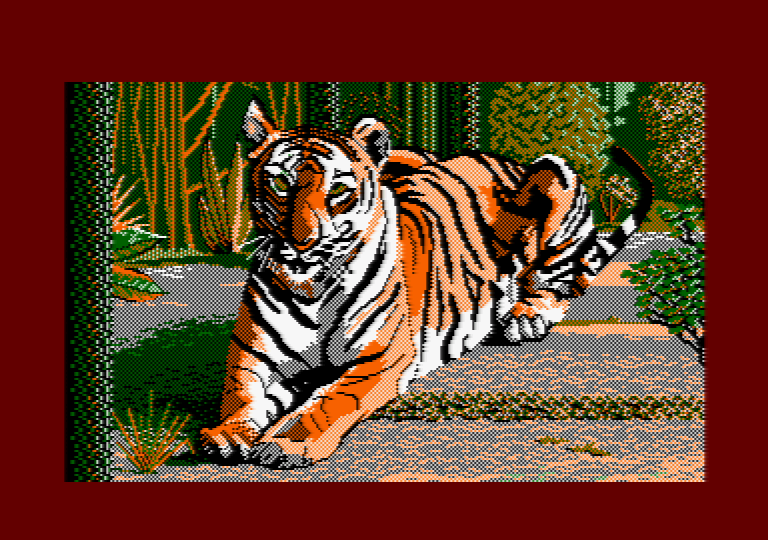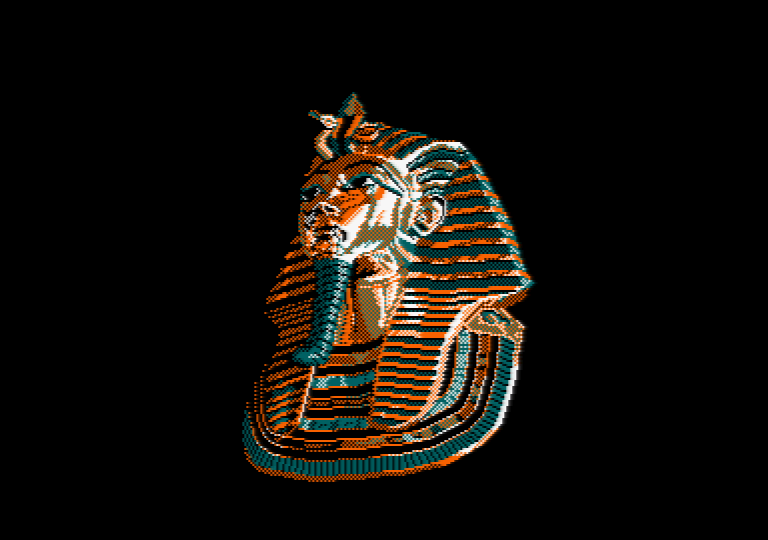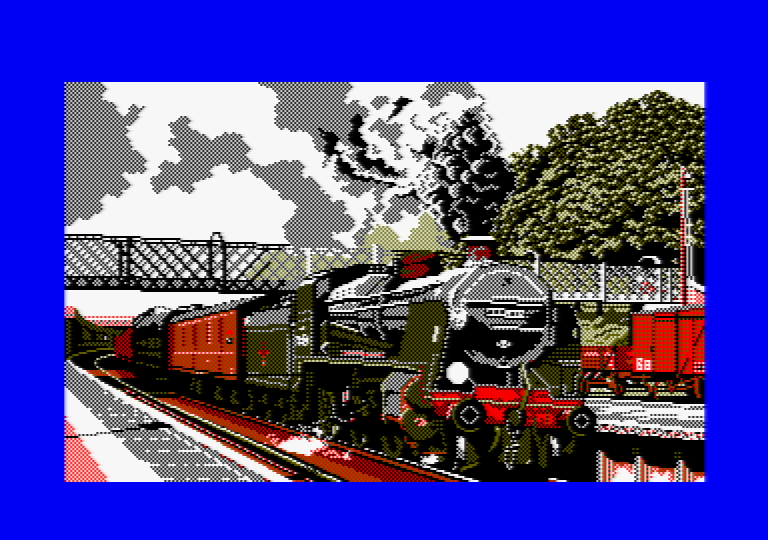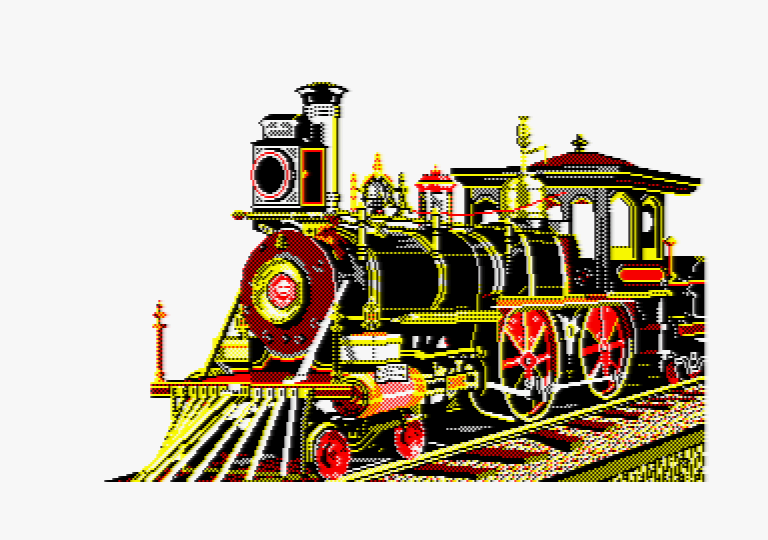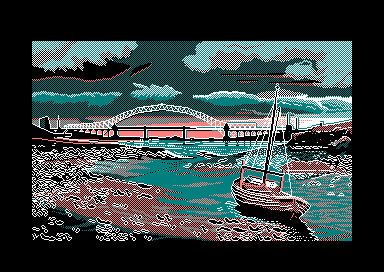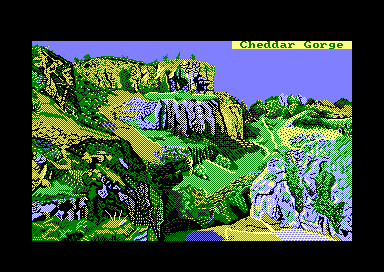 Color Lines is out, really, I dont lie, it's for real, you have to believe me
-
Ten years after the development of this game started, it's out. First, I would like to introduce this reflexion game with the own words of the author (who for sure had smoken a CPC+ cartridge as he seems to be under the effect of Acid) :
Warning, warning ! Color Lines must not be put in everybody hands. Wonderful graphics, melodious music, perfect playability are just there to hide the incredible addiction power of this game. Enter a world where pure logic and sometimes luck are you only weapons !
Sadly the physical package (box, documentation, 3 and 3,5 inch disk) will be only available to the lucky people who were present at the Amstrad Expo Meeting. Back from the meeting, Tom and Jerry will release a .DSK of his game. Maybe later package will be available for order, not sure though. The documentation and the game itself are in french and english.
To play this game is easy, on a 9x9 chessboard you have to align 5 circles of the same color in all possible directions, the game ends when the chessboard is full.
Many people did contribute to the game (France, Greece and United Kingdom) :
Z80 code : Tom and Jerry
main graphics : Eldrik
music and sfx : Tom and Jerry
additionnal music : Ultradsy
beta testing : Supersly
skins (chessboard and score panel) : Eldrik, Supersly, Ced, Papy CPC, Fano, Macdeath, Rex, VoXfReaX, Nori, Winner
english translation : Nicholas Campbell
cover and stickers : Lobo and Kukulcan
The first picture (front cover of the game) below is a collector, you see on it my hands taking the photo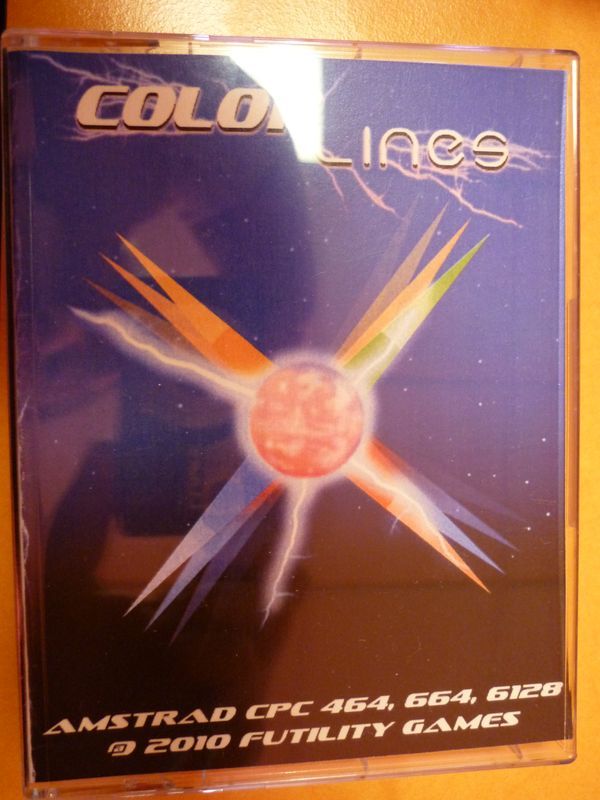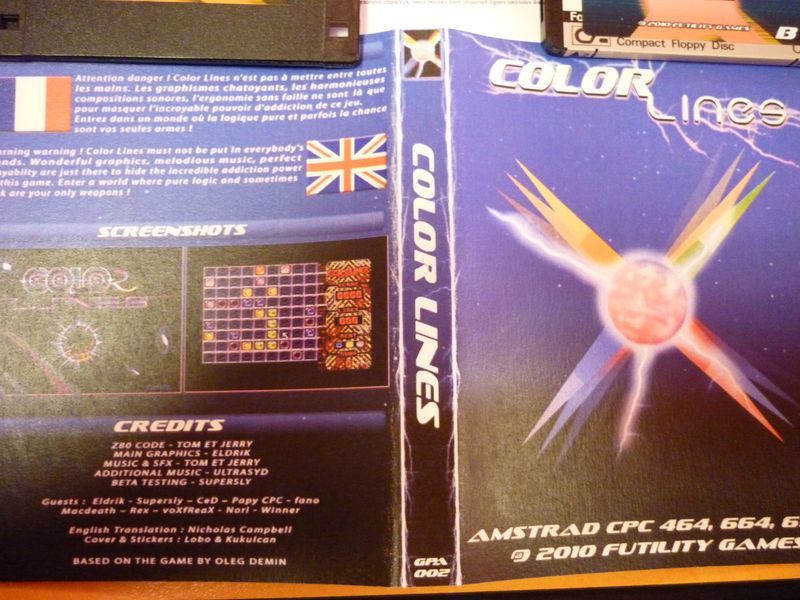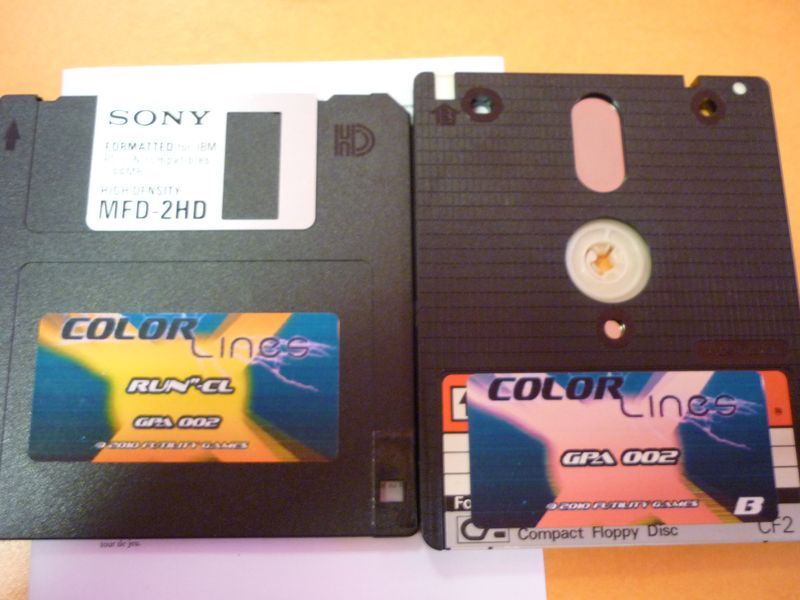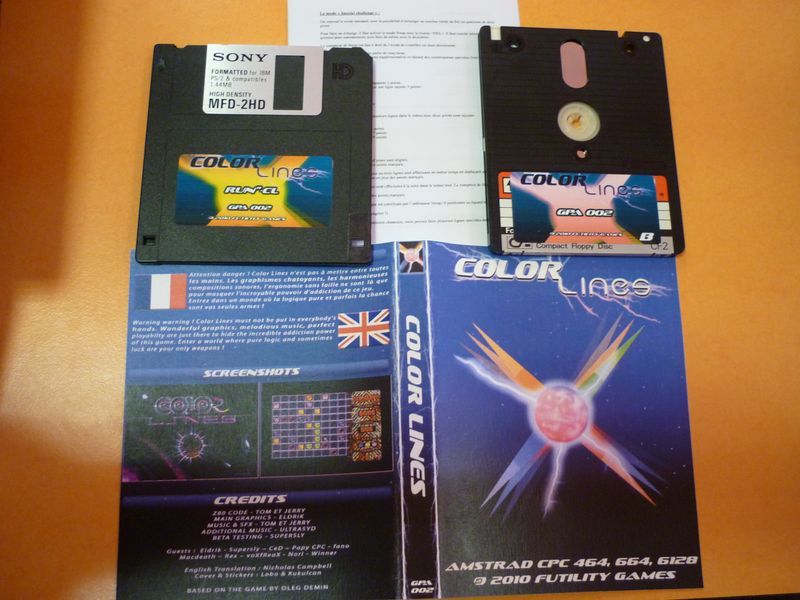 Burnin' Rubber incoming on Playstation Network
-
Too bad it's not the Burnin' Rubber we all know, which came with all Amstrad CPC+. Instead this game was called Bump 'n' Jump, aka Burnin' Rubber in Japan, it's a 1982 Japanese arcade game created by Data East Corporation.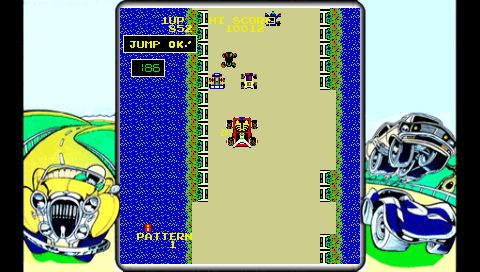 Windows XP on an Amstrad CPC 464, yes you can !
-
It just needs a lot of tapes...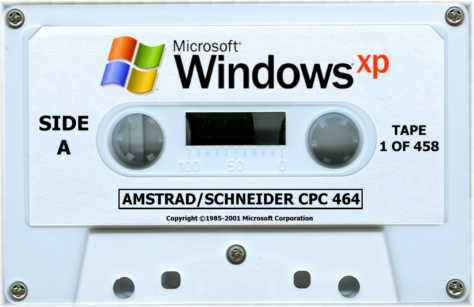 Cpcdsk and the Caprice Reloaded emulator
-
Cpcdsdk is a project aiming to collect the various bit of existing sourcecode in one common place for the linux OS relative to the Amstrad CPC, add the missing features, and make life easier for all developpers :
The Caprice Reloaded emulator, with integrated assembler and debugger, for windows and linux,
gfx2crtc, a tool to convert pictures to the amstrad sceen format,
An imporved version of Ramlaid's cpctools, now running under linux, with (limited) support for usb floppy drives
A special version of STSound from Leonard, modified to emulate an AY3 more accurately (the original emulates the slightly different YM chip used in the Atari ST)
Hideur Maikeur by Downwater for handling AMSDOS headers
iDSK from sid for manipulating dsk images and files inside.
Six new Amstrad CPC games tested on CPC Games Reviews
-
CPC Game Reviews has 6 new reviews (Deathscape, Diamond Mine, Unitrax, Whopper Chase, Alien Storm and Space Hawks).
Blue Angel 69 CPC conversion by Kevin Thacker
-
Kevin Thacker is finishing working on a conversion of a Magic Bytes reflexion game released in 1989 : Blue Angel 69 (C64, PC CGA and EGA) written by Winfried Stappert. The original game is turn based (vs computer or another player). The screen draws a 8x8 chessboard filled with positive or negative numbers. Each turn, the player must choose a number whichs on the same linge (or column for the other player) that the last chosen number. Once chosen the number est removed from the chessboard and added or substracted from the player score. The goal of the game is of course to have more points than your adversary at the end of the game (where you will see the sexy robot fully).
For the history, the term Sexy Robot is used to describe Hajime Sorayama's renditions of the female robot forms which is covered with silver metal, first created in 1979. Initially, Sorayama had the idea to combine robots with eroticism to create the Sexy Robots.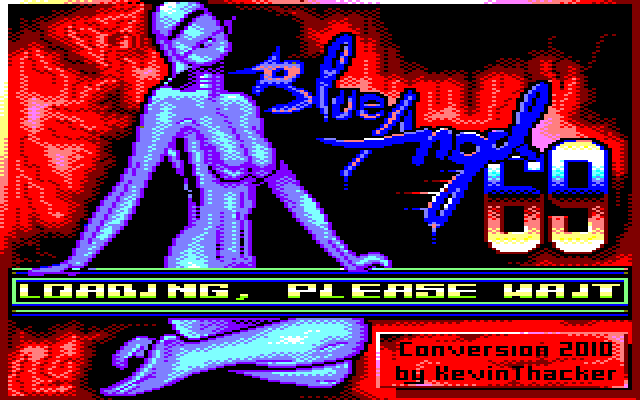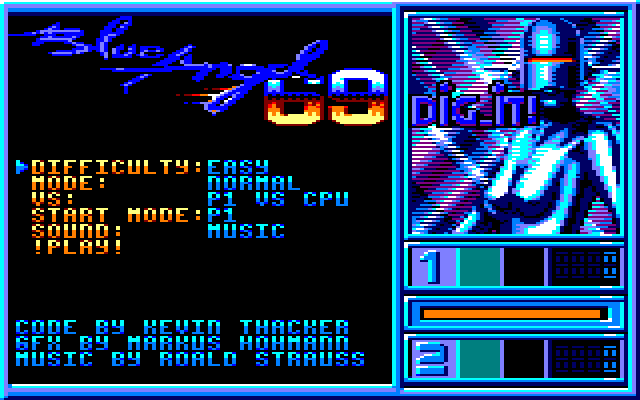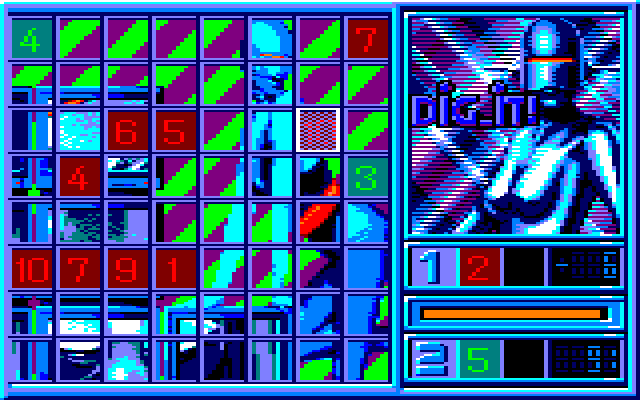 CPCE v1.92 by César Nicolas Gonzales
-
César Nicolas Gonzales released for his birthay (on 17th May, happy birthday, just a month too late) a new version of his CPCE emulator.
The entire "Ecole Buissoniere" (plus the secret part) works perfectly (it stopped working on v1.90), LPTCPC doesn't forget to calculate the sector size in 1-sector tracks, file extensions are lower case by default, the new AUTOTYPE option provides a more flexible boot method, better SVGA support for DOS and DPMI, Z80 dummy DD/FD bugfix ("Skateball.cdt" by Dlfrsilver), RAR archive support, the TZX direct recording block is now operational, Simon Owen's DSK extension for unstable sectors was added, a new debugger function (bytelogger), LPTCPC is now menu-driven, LPTPC has a Windows NT/XP port, LPTPCIO, the tape motor relay pause is emulated (Opera Soft tapes need it), there's a little Easter Egg for the WIN32.IMAGE_DOUBLE=1 mode... A new corrected v1.92 version was released the 2th June.
Next version will offer CPC+ and Gunstick emulation.
RFTM ! While reading the documentation, I just discovered that CPCE let you play on internet, one person acting as a server, the second one connect to the server as a client. I will try this and let you know about it later.
SAMdisk v3.0 by Simon Owen
-
SAMdisk v3 by Simon Owen is out, it's a command-line disk image utility for Windows 2000 or later. The utility supports transfers between floppy disks and disk images (DSK/MGT/IMG/HDF), and is designed to work with almost any soft-sectored disk format compatible with the PC floppy controller, including some copy-protected formats. Low-level floppy device access requires the fdrawcmd.sys driver to be installed.
You can use a java GUI written by DevilMarkus : SAMdisk GUI.
This utility requires a floppy drive connected to a standard motherboard connector. USB floppy drives cannot be supported as there is no way to access their embedded floppy controller chip.
Eliot's Amstrad hardware shop
-
Need some Amstrad CPC parts ? Well time to go on Eliot's shop !
Rules of this useful shop :

- parts are aimed to be used in the CPC community or any other 8bits friendly community,
- some parts are rare so please order only what you really need,
- please do not resell parts you got from the site.
Welcome to Coutances, home of Amstrad Expo meeting, organized by the tiredless Eliot. Arrived Friday in the morning, 2 people already, myself and a distinguished member of Greece : Voxfreak.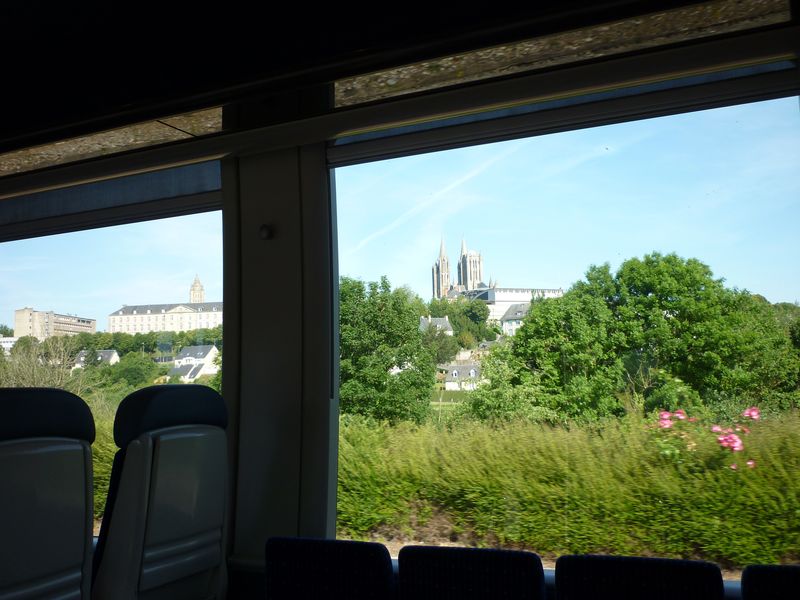 Symbos running on Eliot's computer with a symbiface and a Compact Flash card working as a hard disc.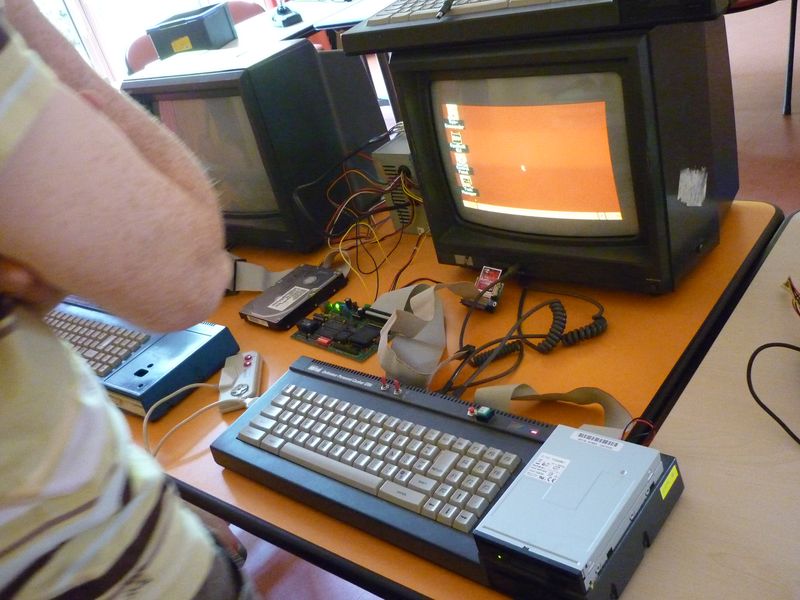 Voxfreak (left) and Eliot (right).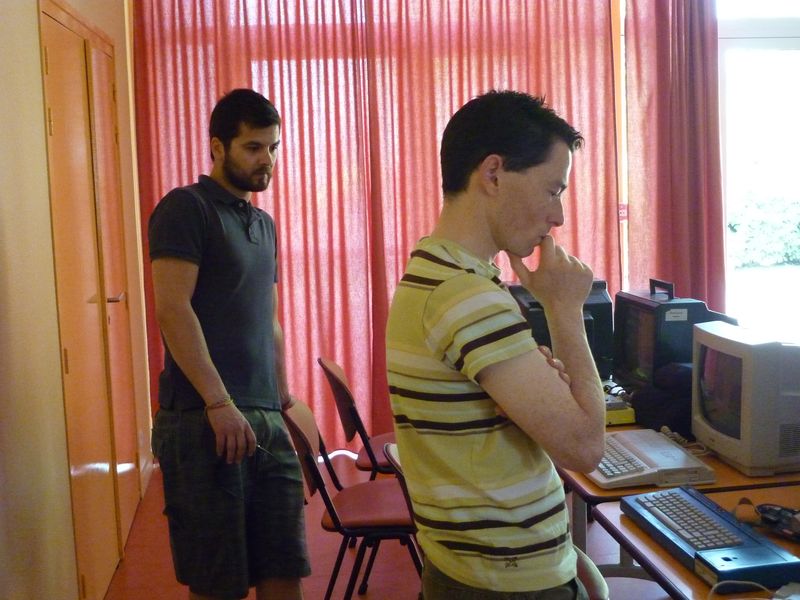 Bad news, GamebaseCPC will stop to share its work.
Good news, dumps of programs will still be available on CPC-POWER.